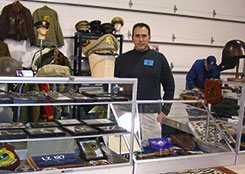 7/18/17 Portsmouth, NH
Greetings All,
Lots of new items to peruse in our Latest Offerings this week!
And these items can all still be found (except for the ones that have sold!) at www.flyingtigerantiques.com (or you can click on the Tiger above!) or more specifically in the 'LATEST OFFERINGS' Category:
http://www.flyingtigerantiques.com/mm5/merchant.mvc?Screen=CTGY&Store_Code=fta&Category_Code=01NA
And don't forget: every Wednesday, starting around 5:30 Eastern Standard Time, these new additions go LIVE in the 'LATEST OFFERINGS' category. This week new items were listed with the prefix '0t49' at the beginning of their item codes and will be at the top of the category. Next week, the items will show up with the prefix '0t48' and so on: always keeping our freshest offerings at the top of the category. 'Latest Offerings' will remain in that category for 4 weeks, during which time the prices will not be negotiable. But, once an item has been removed from the 'Latest Offerings' category, we will be open to offers. We hope you enjoy our latest offerings!
All of us here at Flying Tiger Antiques wish you a safe, fun, adn historical Autumn, and hoep to swee you at teh MAX in October,
Ron
Ron Burkey
Owner, Sales, Appraisals, & Acquisitions
PS: Don't forget to "refresh" your browser to see the updated list of shows we plan to attend below!
Call or e-mail us TWO WEEKS before a show date if you would like us to bring any particular artifact(s).
Date:
Event:

Location:

08/06/2017

Bay State Militaria Club Show


Boxborough Regency Hotel
242 Adams Place
Boxborough, MA 01719

09/03/2017

Bay State Militaria Club Show

Boxborough Regency Hotel
242 Adams Place
Boxborough, MA 01719


09/07 - 09/2017

ASMIC National Military Show & Convention

KCI Expo Convention Center & Holiday Inn KCI
11730 North Ambassador Drive
Kansas City, MO 64153

10/01/2011

Bay State Militaria Club Show

Boxborough Regency Hotel
242 Adams Place
Boxborough, MA 01719

10/05 - 07/2017

The MAX Military Antiques Extravaganza

Monroeville Convention Center
209 Mall Plaza Road

Monroeville, PA 15146

11/19/2017

Bay State Militaria Club Show


Boxborough Regency Hotel
242 Adams Place
Boxborough, MA 01719

Flying Tiger Antiques
PO Box 672
Apache Junction, AZ 85117

Phone: (603) 501-8540
Fax: (413) 638-5732

Terms of Use